[Excerpted from BoatTest.com, June 20, 2019]
Yamaha has just announced its latest release of boats and accessories headed for the new model year lineup. We've already got testing scheduled for the new boats right after they launch, and we'll also be reviewing the accessories. But until then, take a look at what's coming.
Two new boats will be gracing the waterfront thanks to Yamaha's expanded lineup.
First up is the new 195S.
Yamaha introduced many improvements in the 19' (5.79 m) series of boats. This new 195S takes it even further. Features that were previously offered only on the larger boats are now included in this new model. Look for MarineMat flooring, a portside observer's seat that matches the captain's seat, docking lights, a 7" Connext screen with full vessel integration and mapping, Wet Sounds speakers and a custom CNC nameplate on the tower. Didn't think premium-level features could be on the 19' (5.79 m) range… Think again. Click here to learn more about this new model.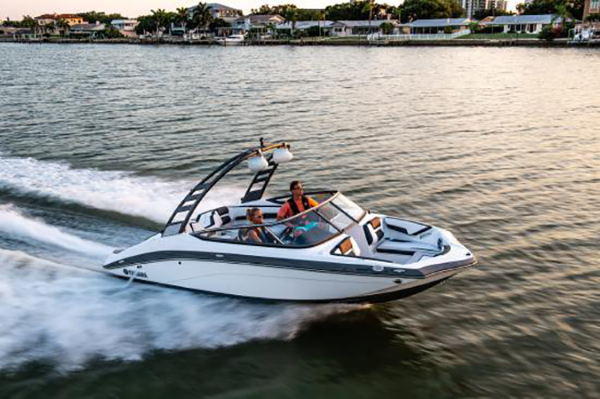 Next, the 195 FSH
The 19' (5.79 m) series of center consoles had just gotten a new and improved sibling that also adds features previously unavailable. Start with the supercharged 1.8L SVHO (Super Vortex High Output) Yamaha Marine engine giving this new center console the power and performance of the SX and AR195 models. Yamaha tells us to expect a 0 to 30 time of under 6 seconds and a top speed of 50 mph. Add in the MarineMat flooring, upgraded switch panels, a steering wheel knob, combination rod and cup holders, and a new electric raw water pump putting out more pressure than ever before. Click here to learn more about this new model.
New Accessories Coming
Surfing the 19' Series of Yamaha Boats
To us, the biggest news in the accessory department is the WakeBooster that we reviewed for the 21' (6.40 m) and 24' (7.31 m) boats, and indeed raved about, is now available for the 19' (5.79 m) series of boats including the FSH models. This attachment brings water in from the side, and directs it into the rooster tail and creates an epic curl that anyone can surf… we proved it here. They've even added a custom ballast solution to further maximize the wake. Now, every boat in the Yamaha lineup is surfable.